AWID at CSW67: a Portal to Feminist Power
Imagine opening a door which takes you into a conversation with feminist activists in other continents. This portal will transcend the barriers of UN CSW by pushing beyond language barriers, unaffordable travel, unequal protection from COVID19, and racist visa regimes.
This week, we're putting a virtual spin on CSW by connecting and amplifying feminist activists' voices, to challenge the discriminatory barriers that limit participation and influence. By setting up connecting "portals" in New York City, Nairobi & Bangalore, we'll host a physical-virtual hybrid space for feminists to connect their struggles and build collective power.
---
Follow us to join the livestreams:
---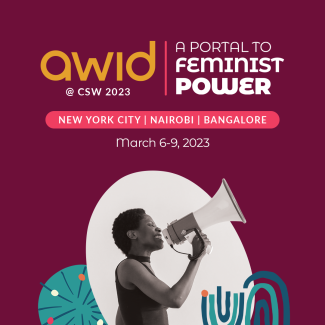 What are we covering? 
Day 1: March 6 - Accessibility
Day 2: March 7- Challenging Anti-Rights Actors And Corporations
Day 3: March 8 - Challenging Anti-Rights Actors And Corporations
Day 4: March 9- Reclaiming Multilateralism
---
Find the program for this week's activities here: 
Download full program here (PDF)
Bangalore Schedule (PNG)  Nairobi Schedule (PNG) New York City Schedule (PNG)