AWID in 2016: Co-Creating Feminist Futures
AWID is pleased to share our 2016 Annual Report.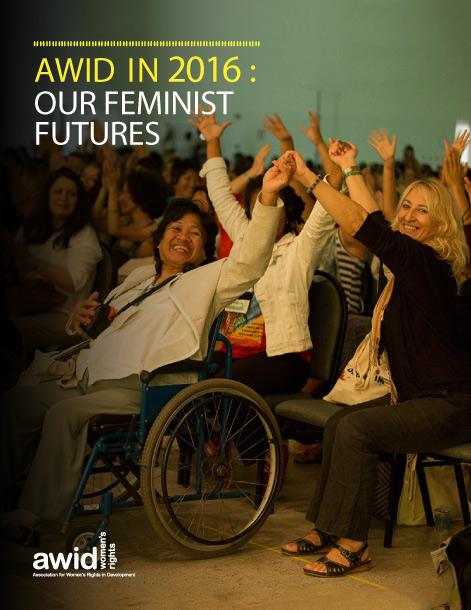 2016 was an incredible year for AWID, we convened the 13th International AWID Forum in Bahia, Brazil, a space for strategizing and alliance building with feminists and other justice movements, which was attended by over 1800 participants from 120 countries and territories across the globe.
We know that women's rights and feminist movements are key actors in creating sustainable transformative change. Within our movements, organizing, resisting and responding to the challenging context is sharpening, and in our increasingly connected world, the potential for collective action across diverse movements has dramatically grown.
This is the crucial work that AWID seeks to amplify and support every day.
---
What we achieved in 2016
We expanded solidarity and joint action across diverse movements
A highlight of 2016 was our ground-breaking 13th International Forum with the theme: "Feminist Futures: Building Collective Power for Rights and Justice", where we harnessed the thinking and energy of nearly 500 partners, presenters, panelists, moderators, artivists, writers, facilitators, IT innovators, and performers, many of them leaders in their movements. We also supported the convening of the first and historical Black Feminisms Forum (BFF) organised by a working group of Black Feminists from across the world.
We strengthened knowledge of issues and strategies
We contributed to collective advocacy
AWID, in partnership with other feminist and women's rights organisations, engaged in advocacy and dialogue to explore better solutions for women's rights agendas including our work with the Count Me In! consortium .
We increased the visibility of movements
The experiences of women with disabilities, Black and Afro-descendant women, sex workers, Indigenous women, trans and intersex people, domestic workers and how their lives are impacted by multiple oppressions and violence were placed front and center of the Forum process.
We also launched the 2016 WHRD Tribute to commemorate defenders who are no longer with us, during the 16 Days of activism, and thanks to the contributions from our members,
We drove attention to groups and issues that do not usually receive adequate mainstream media coverage through our partnership with The Guardian and Mama Cash.
---
Our members