Mobilizing Change
In her own words, Ruth Acheinegeh (AWID member since 2010) is a "young woman in her early thirties, full of energy and cheerfulness in her encounters with those around her and with one leg affected by polio."
She owns and runs a local market stall in Bamenda, Cameroon which also sells bags and clothing made by a local group of women with disabilities. This is a valuable source of financial support for Ruth, and also enables her to partly support her family.
"What keeps me going is the spirit of moving and creating a new spotlight for many more women with disabilities not only in Cameroon but all over the world, hoping to have an inclusive society for all."
Strengthen leadership skills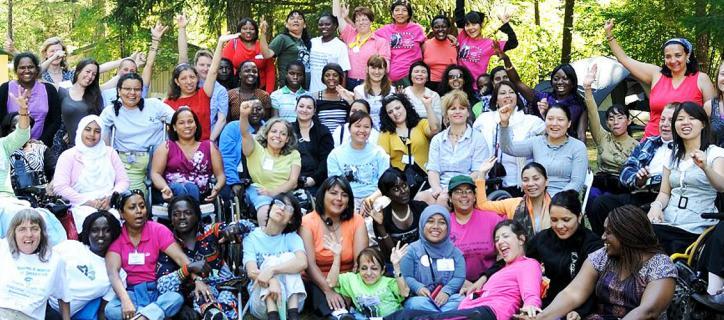 Staff from AWID met Ruth in August 2010 in Eugene, Oregon, United States, at the Mobility International USA's (MIUSA) Women's Institute on Leadership and Disability (WILD) that brought together numerous women leaders with disabilities from all over the world to "strengthen leadership skills, create new visions and build international networks of support." After returning to Cameroon, Ruth created the North West Association for Women with Disabilities, the first ever women's group in Bamenda focusing only on women's issues. It now counts 40 members and Ruth is passing on the knowledge she gained in Eugene in the areas of economic empowerment, health, and information and technology. 
Ruth is a trail blazer, change-maker, visionary, and a traveler with an incredible sense of humor. In 2012 she participated in the 12th AWID International Forum in Istanbul Turkey which brought together a number of African women with disabilities who subsequently organised their first workshop in Malawi.
Still a big gap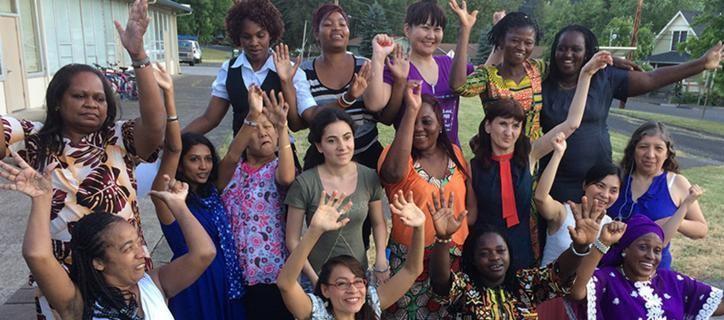 And even though much work has been done and progress achieved, as Ruth points out, there is "still a big gap looking at the low literacy rate among women with disabilities" in the region. So to help advance change, in June 2015 Ruth took part in a highly competitive training-of-trainers program held by MIUSA after which she brought together 20 women with disabilities from 20 different council areas in her region. This was the first of its kind in the country and offered training in human rights, governance and management in that area. In spite of her skills, experience and educational background, including a Bachelor's degree in Management and Accountancy from the International University Bamenda, Ruth has been unable to find work which she says is, "due to the fact that I have a disability."
"I think that I am one of those that have the calling of changing the lives of women with disabilities all over the world, not only in my community."
Apart from managing her market stall, Ruth works with local women with disabilities to encourage them to establish economic projects and independence. Through this group she has made connections with international initiatives, global feminist activists and disability researchers which has opened new channels of learning and travel. Despite her own financial challenges and being unable to improve her own life by buying a "much-need wheelchair or new crutches", Ruth says she "clearly holds her social and economic independence dear".
As a woman immersed in a range of local, national and international social networks (the latter particularly through her disability work), how Ruth constitutes herself and the strength of her connections constantly shift as she "moves from daughter to sister to income provider."
Continuing our engagement with Ruth as our member, ally and friend we are extremely excited to meet her again at our upcoming 13th AWID International Forum in Brasil! She is a co-presenter in a session on "Proper" roles and precarious lives: women with disabilities disrupting patriarchy.
---
Find out more and connect with Ruth
---
"Loud, Proud and Passionate"
Watch a MIUSA WILD Institute 2010 Video: