Embodying Trauma-Informed Pleasure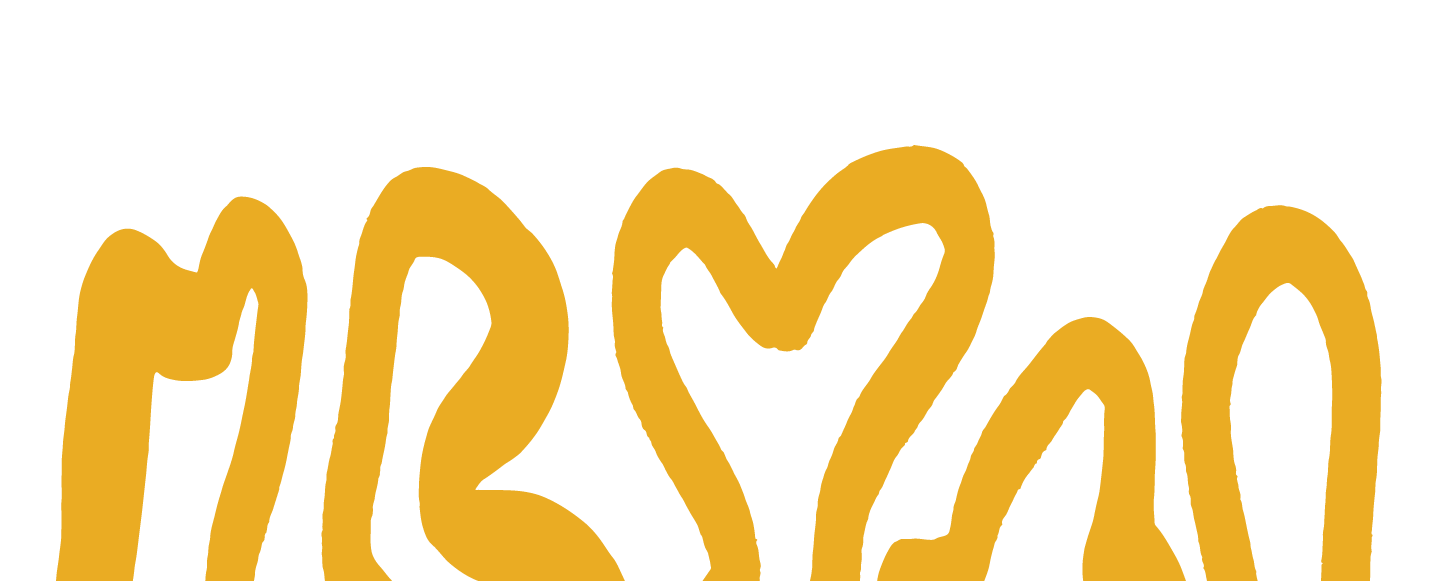 ---
| | |
| --- | --- |
| | Tshegofatso Senne is a Black, chronically-ill, genderqueer feminist who does the most. Much of their work is rooted in pleasure, community, and dreaming, while being informed by somatic abolitionism and disability, healing, and transformative justices. Writing, researching, and speaking on issues concerning feminism, community, sexual and reproductive justice, consent, rape culture, and justice, Tshegofatso has 8 years of experience theorising on the ways in which these topics intersect with pleasure. They run their own business, Thembekile Stationery, and their community platform Hedone brings people together to explore and understand the power of trauma-awareness and pleasure in their daily lives. Tshegofatso believes deeply in the individual and collective potential of regenerative and sustainable change, pleasure, and care work. |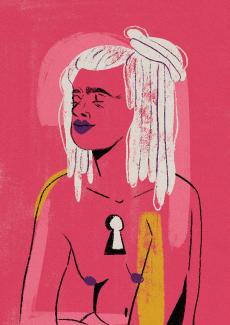 ---
The body. The most permanent home we have.
The body, not the thinking brain, is where we experience most of our pain, pleasure, and joy, and where we process most of what happens to us. It is also where we do most of our healing, including our emotional and psychological healing. And it is where we experience resilience and a sense of flow.
These words, said by Resmaa Menakem in his book My Grandmother's Hands, have stayed with me.
The body; it holds our experiences. Our memories. Our resilience. And as Menakem has written, the body also holds our traumas. It responds with spontaneous protective mechanisms to stop or prevent more damage. That is the power of the body. Trauma is not the event; it is how our bodies respond to events that feel dangerous to us. It is often left stuck in the body, until we address it. There's no talking our body out of this response – it just is.
Using Ling Tan's Digital Superpower app, I tracked how my body felt as I travelled around different parts of my city, Johannesburg, South Africa. The app is a gesture-driven online platform that allows you to trace your perceptions as you move through locations by logging and recording the data. I used it to track my psychosomatic symptoms – physical reactions connected to a mental cause. Whether that be flashbacks. Panic attacks. Tightness in the chest. A fast heartbeat. Tension headaches. Muscle pain. Insomnia. Struggling to breathe. I tracked these symptoms as I walked and travelled to different areas in Johannesburg. And I asked myself.
Where can we be safe? Can we be safe?
Psychosomatic responses can be caused by a number of things, and some are not as severe as others. After experiencing any kind of trauma you may feel intense distress in similar events or situations. I tracked my sensations, ranked on a scale of 1-5, where 1 were the instances I barely felt any of these symptoms – I felt at ease rather than on-guard and jumpy, my breath and heart rate were stable, I was not looking over my shoulder – and number 5 being the opposite – symptoms that had me close to a panic attack.
As a Black person. As a queer person. As a genderqueer person who could be perceived as a woman, depending on what my gender expression is that day.
I asked myself.
Where can we be safe?
Even in neighbourhoods one might consider "safe," I felt constantly panicked. Looking around me to make sure I wasn't being followed, adjusting the way my T-shirt sat so my breasts wouldn't show up as much, looking around to make sure I knew multiple routes to get out of the place I was should I sense danger. An empty road brings anxiety. A packed one does too. Being in an Uber does. Walking on a public road does. Being in my apartment does. So does picking up a delivery from the front of the building.
Can we be safe? 
Pumla Dineo Gqola speaks of the Female Fear Factory. It may or may not be familiar, but if you're someone socialised as a woman, you'll know this feeling well. The feeling that has you planning every step you take, whether you're going to work, school, or just running an errand. The feeling that you have to watch how you dress, act, speak in public and private spaces. The feeling in the pit of your stomach if you have to travel at night, get a delivery, or deal with any person who continues to socialise as a cis man. Harassed on the street, always with the threat of violence. Us existing in any space comes with an innate fear.
Fear is both an individual and a socio-political phenomenon. At an individual level, fear can be present as part of a healthy well developing warning system […] When we think about fear, it is important to hold both notions of individual emotional experience and the political ways in which fear has been used in different epochs for control.
- Pumla Dineo Gqola, in her book Rape: A South African Nightmare
South African women, femmes, and queers know that every step we take outside – steps to do ordinary things: a walk to the shops, a taxi to work, an Uber from a party – all of these acts are a negotiation with violence. This fear, is part of the trauma. To cope with the trauma we carry in our bodies, we develop responses to detect danger – watching the emotional responses of those around us, reading for "friendliness." We're constantly on guard.
Day after day. Year after year. Life after life. Generation after generation.
On the additional challenge of this learned defence system, author of The Body Keeps Score, Bessel Van Der Kolk, has said
It disrupts this ability to accurately read others, rendering the trauma survivor either less able to detect danger or more likely to misperceive danger where there is none. It takes tremendous energy to keep functioning while carrying the memory of terror, and the shame of utter weakness and vulnerability.
As Resmaa Menakem has said, trauma is in everything; it infiltrates the air we breathe, the water we drink, the foods we eat. It is in the systems that govern us, the institutions that teach and also traumatise us, and within the social contracts we enter into with each other. Most importantly, we take it with us everywhere we go, in our bodies, exhausting us and eroding our health and happiness. We carry that truth in our bodies. Generations of us have.
So, as I walk around my city, whether an area is considered "safe" or not, I carry the traumas of generations whose responses are embedded in my body. My heart palpitates, it becomes difficult to breathe, my chest tightens – because my body feels as though the trauma is happening in that very moment. I live hyper vigilant. To the point where one is either too on-guard to mindfully enjoy their life, or too numb to absorb new experiences.
For us to begin to heal, we need to acknowledge these truths.
These truths that live in our bodies.
This trauma is what keeps many of us from living the lives we want. Ask any femme or queer person what safety looks like to them and they'll mostly share examples that are simple tasks – being able to simply live joyful lives, without the constant threat of violence. 
Feelings of safety, of comfort and ease, are spatial. When we embody our trauma, it affects the ways we perceive our own safety, affects the ways we interact with the world, and alters the ways we are able to experience and embody anything pleasurable and joyful.
We have to refuse this burdensome responsibility and fight for a safe world for all of us. Walking wounded as many of us are, we are fighters. Patriarchy may terrorise and brutalise us, but we will not give up the fight. As we repeatedly take to the streets, defying the fear in spectacular and seemingly insignificant ways, we defend ourselves and speak in our own name. 
- Pumla Dineo Gqola, in her book Rape: A South African Nightmare
Where can we be safe? How do we begin to defend ourselves, not just in the physical sense, but in the emotional, psychological, and spiritual senses? 
"Trauma makes weapons out of us all," adrienne maree brown has said in an interview conducted by Justin Scott Campbell. And her work, Pleasure Activism, offers us multiple methodologies to heal that trauma and ground ourselves in the understanding that healing, justice, and liberation can also be pleasurable experiences. Especially those of us who are the most marginalised, who may have been raised to equate suffering with "The Work." The Work that so many of us have gone into as activists, community builders and workers, those serving the most marginalised, The Work that we struggle in order to do, burning ourselves out and rarely caring for our minds and bodies. The alternative is becoming more informed about our trauma, able to identify our own needs, and becoming deeply embodied. That embodiment means we are simply more able to experience the world through the senses and sensations in our bodies, acknowledging what they tell us rather than suppressing and ignoring the information it is communicating with us.
Being constantly in conversation with our living body and intentionally practising those conversations connects us to embodiment more deeply; it allows us to make tangible the emotions we feel as we interact with the world, befriend our bodies, and understand all that they try to teach us. When understanding trauma and embodiment paired, we can begin to start the healing and access pleasure more holistically, healthily, and in our daily lives without shame and guilt. We can begin to access pleasure as a tool for individual and social change, tapping into the power of the erotic as Audre Lorde described it. A power that allows us to share the joy we access and experience, expanding our capacity for happiness and understanding that we are deserving of it, even with our trauma. 
Tapping into pleasure and embodying the erotic gives us the expansion of being deliberately alive, feeling grounded and stable and understanding our nervous systems. It allows us to understand and shed the generational baggage we've been carrying without realising; we can be empowered with the knowledge that even as traumatised as we are, as traumatised as we potentially could be in the future, we are still deserving of pleasurable and joyful lives, that we can share that power with our people. It is the community aspect that is missing from the ways we care for ourselves; self-care cannot exist without community care. We are able to feel a deeper internal trust, safety, and power of ourselves, especially in the face of future traumas that will trigger us, knowing how to soothe and stabilise ourselves. All this understanding leads us to a deep internal power that is resourced to meet any challenges that come your way.
As those living with deep generational traumas, we have come to distrust and perhaps think we are incapable of containing and accessing the power we have. In "Uses of the Erotic: The Erotic as Power," Lorde teaches us that the erotic offers a source of replenishment, a way to demand better for ourselves and our lives. 
For the erotic is not a question only of what we do; it is a question of how acutely and fully we can feel in the doing. Once we know the extent to which we are capable of feeling that sense of satisfaction and completion, we can then observe which of our various life endeavours brings us closest to that fullness.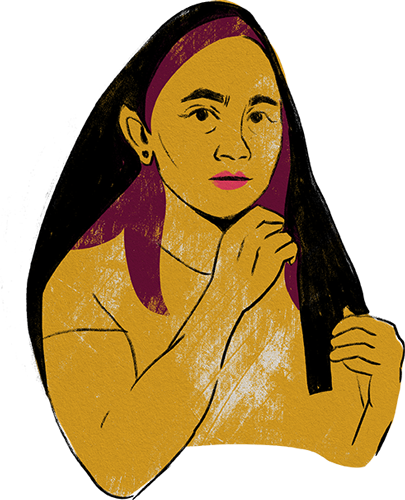 I don't say any of this lightly – I know that this is easier said than done. I know that many of us are prevented from understanding these truths, from internalising or even healing them. Resistance comes with acts of feeling unsafe, but is not impossible. Resisting power structures that keep the most powerful safe will always endanger those of us shoved to the margins. Acknowledging the traumas you've faced is a reclamation of your lived experiences, those that have passed and those that will follow; it is resistance that embodies that knowledge that we are deserving of more than the breadcrumbs these systems have forced us to lap up. It is a resistance that understands that pleasure is complicated by trauma, but it can be accessed in arbitrary and powerful ways. It is a resistance that acknowledges that our trauma is a resource that connects us to each other, and can allow us to keep each other safe. It is a resistance that understands that even with pleasure and joy, this is not a utopia; we will still harm and be harmed, but we will be better equipped for survival and thrive in a community of diverse care and kindness. A resistance that makes way for healing and connecting to our full human selves.
Healing will never be an easy and rosy journey, but it begins with the acknowledgment of the possibility. When oppression makes us believe that pleasure is not something that we all have equal access to, one of the ways that we start doing the work of reclaiming our full selves — our whole liberated, free selves — is by reclaiming our access to pleasure.
Leah Lakshmi Piepzna-Samarasinha has said in her article in Pleasure Activism (to which she contributed), 
I know that for most people, the words "care" and "pleasure" can't even be in the same sentence. We're all soaking in ableism's hatred of bodies that have needs, and we're given a really shitty choice: either have no needs and get to have autonomy, dignity, and control over your life or admit you need care and lose all of the above.
The power that this has? We understand our traumas, so we understand those of others; we embody the sensations we experience and tend to them rather than distract and avoid. We access pleasure in ways that make us want to share that joy with those in our communities. When we are trauma-informed, we give ourselves more room to experience all this and give ourselves, and others, permission to heal. Imagine, a community in which everyone has access, resources, and time to live pleasurable lives, in whichever way they want and deserve. In which spatial traumas are lessened because the people that occupy them are trauma-aware, are filled with a tender care. Isn't that healing? Is that not working through generational traumas? Does that not build and sustain healthier futures for us all?
It is time we reconnected with the ancestral knowledge that we deserve to live full lives. We need to get back in touch with our natural right to joy and existing for ourselves. To feel pleasure simply for the sake of it. To not live lives of terror. It sounds radical; it feels radical. In a world where we have been socialised and traumatised to numb, to fear, to feel and remain powerless, to be greedy and live with structural issues that lead to mental illness, what a gift and wonder it is to begin to feel, to be in community with those who feel, to be healthily interdependent in, to love each other boldly. Feeling is radical. Pleasure is radical. Healing is radical. 
You have permission to feel pleasure. You have permission to dance, create, make love to yourself and others, celebrate and cultivate joy. You are encouraged to do so. You have permission to heal. Don't bottle it up inside, don't try to move through this time alone. You have permission to grieve. And you have permission to live.
- adrienne maree brown, "You Have Permission"
Somatic embodiment allows us to explore our trauma, work through it and make meaningful connections to ourselves and the collective. Doing this over time sustains our healing; just like trauma, healing is not a one-time only event. This healing helps move us toward individual and collective liberation. 
In "A Queer Politics of Pleasure," Andy Johnson speaks about the ways in which the queering of pleasure offers us sources of healing, acceptance, release, playfulness, wholeness, defiance, subversion, and freedom. How expansive! When we embody pleasure in ways that are this holistic, this queer, we are able to acknowledge the limitation.
Queering pleasure also asks us the questions that intersect our dreaming with our lived realities. 
Who is free or deemed worthy enough to feel pleasure? When is one allowed to feel pleasure or pleased? With whom can one experience pleasure? What kind of pleasure is accessible? What limits one from accessing their full erotic and pleased potential?
- Andy Johnson, "A Queer Politics 
of Pleasure"
When our trauma-informed pleasure practices are grounded in community care, we begin to answer some of these questions. We begin to understand the liberating potential. As pleasure activists, this is the reality we ground ourselves within. The reality that says, my pleasure may be fractal, but it has the potential to heal not only me and my community, but future bloodlines.

I am a whole system; we are whole systems. We are not just our pains, not just our fears, and not just our thoughts. We are entire systems wired for pleasure, and we can learn how to say yes from the inside out.
- Prentis Hemphill, interviewed by Shar Jossell
There's a world of pleasure that allows us to begin to understand ourselves holistically, in ways that give us room to rebuild the realities that affirm that we are capable and deserving of daily pleasure. BDSM, one of my deepest pleasures, allows me a glimpse into these realities where I can both feel and heal my trauma, as well as feel immeasurable opportunities to say yes from the inside out. While trauma keeps me stuck in a cycle of fight or flight, bondage, kneeling, impact, and breath play encourage me to stay grounded and connected, reconnecting to restoration. Pleasure that is playful allows me to heal, to identify where traumatic energy is stored in my body and focus my energy there. It allows me to express the sensations my body feels through screams of pain and delight, to express my no with no fear and revel in the fuck yes. With a safety plan, aftercare, and a deeper understanding of trauma, kink offers a place of pleasure and healing that is invaluable. 
So whether your pleasure looks like cooking a meal at your leisure, engaging in sex, having bed days with your people, participating in disability care collectives, having someone spit in your mouth, going on accessible outings, having cuddle dates, attending an online dance party, spending time in your garden, being choked out in a dungeon, 
I hope you take pleasure with you wherever you go. I hope it heals you and your people.
Recognising the power of the erotic within our lives can give us the energy to pursue genuine change within our world. 
- Audre Lorde, "Uses of the Erotic: The Erotic as Power"
---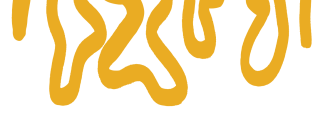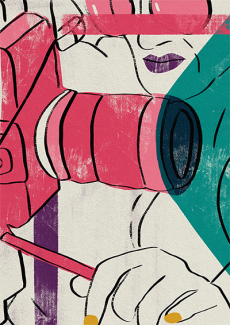 Explore Transnational Embodiments
This journal edition in partnership with Kohl: a Journal for Body and Gender Research, will explore feminist solutions, proposals and realities for transforming our current world, our bodies and our sexualities.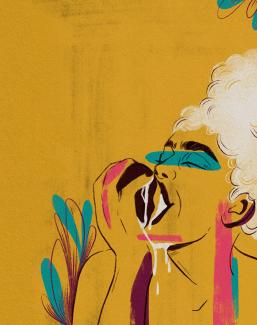 التجسيدات العابرة للحدود
نصدر النسخة هذه من المجلة بالشراكة مع «كحل: مجلة لأبحاث الجسد والجندر»، وسنستكشف عبرها الحلول والاقتراحات وأنواع الواقع النسوية لتغيير عالمنا الحالي وكذلك أجسادنا وجنسانياتنا.