Colectivo Morivivi
Colectivo Moriviví is an all women artistic collective. Our artistic production consists of muralism, community-led muralism, and protest performance/actions. Our work is about democratizing art and bringing the narratives of Puerto Rican communities to the public sphere to create spaces in which they are validated. We believe that through artivism we can promote consciousness on social issues and strengthen our collective memory.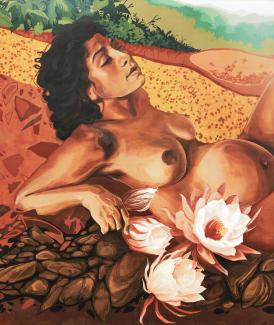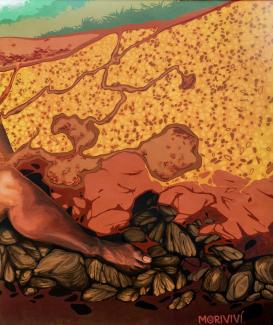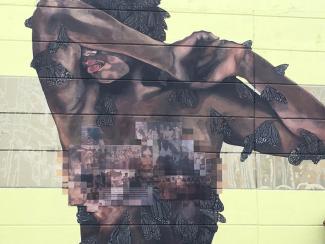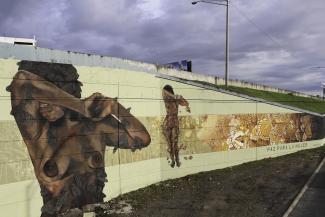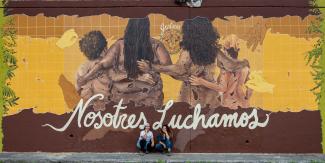 As part of their participation in AWID's Artist Working Group, Colectivo Morivivi gathered a diverse group of members, partners and staff to facilitate a collaborative process of dreaming into, informing, and deciding on the content for a community mural through a multi-stage co-creation process. The project began with a remote conceptualization with feminists from different parts of the planet brought together by AWID, and then it evolved to its re-contextualization and realization in Puerto Rico. We were honored to have the input of local artists Las Nietas de Nonó(@lasnietasdenono), the participation of local women in the Community Painting Session, the logistics support from the Municipality of Caguas, and FRIDA Young Feminist Fund's additional support to the collective.
 
The mural explores the transcendence of borders by presenting bodies like a map, in an embrace that highlights the intersection of the different feminist manifestations, practices and realities. 
 
We also thank Kelvin Rodríguez, who documented and captured the different stages of this project in Puerto Rico: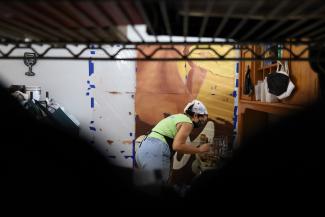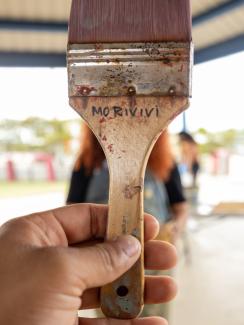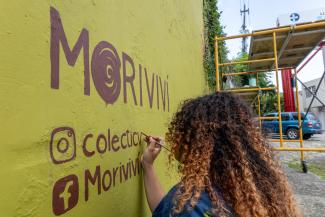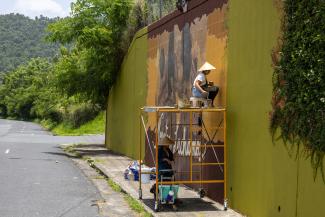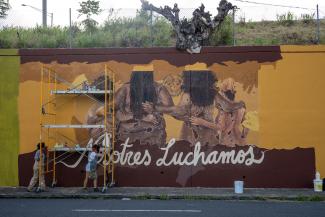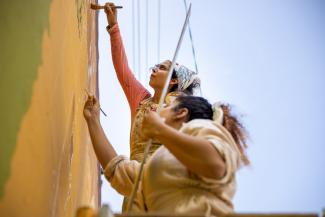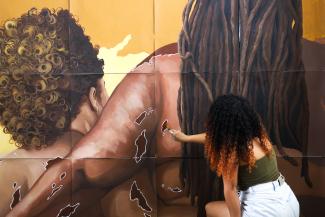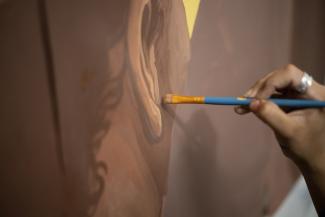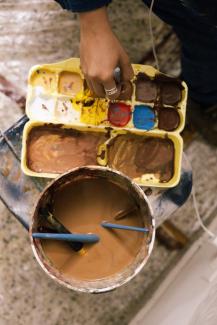 About Colectivo Morivivi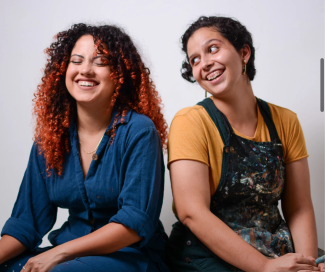 Moriviví
is a collective of young female artists, working on public art since April 2013. Based in Puerto Rico, we've gained recognition for the creation of murals and community led arts.
The group started out in local Urban Art Festivals. As our work became more popular, organizations and community leadership started to reach out to us. We began as eight high schoolers who wanted to paint a mural together. However, in eight years of hard work, we've faced many challenges.  Now we are in a period of transition. During this following year, we aim to restructure the collective internally. Our goal is to open new opportunities for collaborators and back-up our decision making process with a new evaluation system.  In the long run, we aspire to become an alternative school of art practice for those interested in immersing themselves in community art production.