AWID Members Engaging at CSW61
Member states and women's rights advocates and organisations are gathering at the United Nations Headquarters in New York from 13 - 24 March for the 61st Commission on the Status of Women to address 'women's economic empowerment' in the context of Sustainable Development Goal 5.
Whilst AWID is looking forward to physically meeting those of you who will be in New York, we want to engage with all those who cannot attend CSW, and as much as possible, amplify your voices in relevant spaces.

Continue reading to find out how to engage with AWID around CSW, whether you are attending physically or not.
---
Participate in an artistic takeover!
We are thrilled that AWID member Nayani Thiyagarajah is attending CSW this year and will take over the AWID Instagram. She will be available onsite to connect with other members for a possible feature on our Instagram. She will also explore possibilities of including some AWID members in a short film on the theme, 'The personal is political', a story of Nayani's participation in this year's CSW.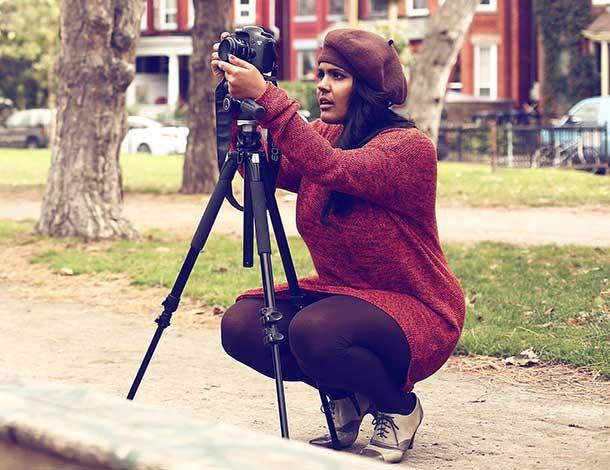 Who is Nayani?
Nayani Thiyagarajah is a director, producer, and writer, dedicated to stories for the screen. A daughter of the Tamil diaspora, she calls Toronto home. For over 10 years, Nayani has worked in the arts and cultural industries. Her first independent feature documentary Shadeism: Digging Deeper (2015) had its World Premiere at the 2015 Zanzibar International Film Festival, where it won a Special Jury Prize. Nayani recently launched [RE]FRAME, with her producing partner Camaro West, a production company based out of Atlanta and Toronto, focused on re-framing the narratives around Black, Indigenous, and other people of colour through storytelling on screen.
On a more serious note, it should be noted that Nayani has a strange laugh, she's quite awkward, and her head is always in the clouds. She feels blessed beyond belief to create stories for the screen and play make believe for a living. Above all else, she believes in love.
(Biography submitted by Nayani)
Interested in meeting Nayani and being considered for inclusion in the film?

Send an email to membership@awid.org with the subject line "CSW Artistic Takeover"

By 13 March 2017

Please include your full name and country information.
---
Can't attend? Voice it!
If you are not able to attend CSW61 because of a travel ban, either due to the one imposed by the Trump administration or one you are facing from your own government, please share your story with us.
Send us messages you want heard in the United Nations spaces concerning funding, the impact of the reinstatement of the Global Gag Rule, and the need to push back against all types of religious fundamentalisms. You can send these in the following formats:
Video: no longer than two minutes and sent through a file sharing folder (for example dropbox, google drive) 

Audio: no longer than two minutes and sent through a file sharing folder (for example dropbox, google drive)

Image: you can share a photo or a poster of your message 

Text: no longer than 200 words and sent in the body of an email or in a word document
Share your message with us
---
Meet other members @CSW61
AWID members tell us that connecting with other members at CSW is valuable. In such a huge advocacy space, it is useful to connect with others including activists working on similar issues, or originating from the same country or region. Recognising the importance of connecting for movement building, we invite you to:
Interested in connecting with other members @CSW61?

Email membership@awid.org with the subject line "CSW AWID Members"

NOTE: Please let us know your full name and country, and if we can share your email address with other members interested in meeting at CSW. 
---
Take a picture!
If you are attending the CSW, we'd love to see what's going on through your eyes!
Show us by capturing a moment you find speaks to the energy in the CSW space, be it on or off site. We hope to publish some of your 'images' on our social media channels and share on awid.org. 
You can send us: 
colour and/ or black and white photographs with a title (if you wish) and 

a caption (no longer than 100 words) about the story your image tells.
​Please also include:
your full name and country of origin and

let us know if we can publish the information you shared (in part or in full).
Send your images:

Email membership@awid.org with the subject line "CSW: Take a Picture!"

During the whole CSW or shortly after until Tuesday 28 March 2017.