Anti-Rights Trends in Regional Human Rights Systems
Chapter 6
In the African Commission and the Inter-American System, anti-rights actors push essentialist notions of culture and gender to hamper progress on rights and undermine accountability. As we see, anti-rights actors are exerting influence in regional human rights systems, as well as international spaces.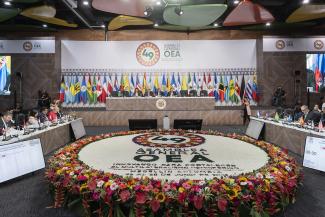 The African Commission on Human and Peoples' Rights has begun framing women's and sexual rights as jeopardising its ability to deal with "real rights" and contrary to "African values",   setting a worrying anti-rights precedent. The withdrawal of the Coalition of African Lesbians' observer status is an example of this trend, and points to the way space for feminist, Pan-Africanist engagement is being stifled. 
In the Organization of American States (OAS) and the Inter-American Human Rights System, anti-rights strategies include the NGOization of religious groups, the use of secular discourses, and the co-optation of discrimination frameworks. Anti-rights influence has materialized in a number of ways, including the intimidation of trans activists and the blocking the introduction of progressive language in resolutions.
Table of Contents
Silencing Feminists in the African Human Rights System
Anti-rights Groups in Latin America: Organization of American States (OAS) General Assembly and the Inter-American Human Rights System