2021: Feminist Power in Action
In 2021, AWID, along with many other organizations, was coming to grips with the implications of the on-going global pandemic for how we work and our role in this particular time. The year taught us three critical lessons about navigating this moment as a global feminist movement-support organization.
Download the full 2021 Annual review
---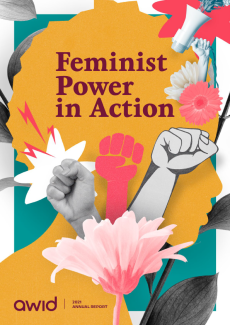 Through dialogue and exchanges critical to their work, AWID connected thousands to feminists from around the world.
Our experience in 2021 reaffirmed the importance of building and sustaining a global feminist community, and AWID's core mission to support feminist movements as a whole. We believe that at this moment, a strong community bound by a shared vision and collective care is the foundation of all social change and transformation.