2018: Supporting feminist movements to thrive and disrupt
This report looks back and celebrates the first year of AWID's new strategic plan as we took our first steps towards our desired outcomes of supporting feminist movements to thrive, challenging anti-rights agendas and co-creating feminist realities.
---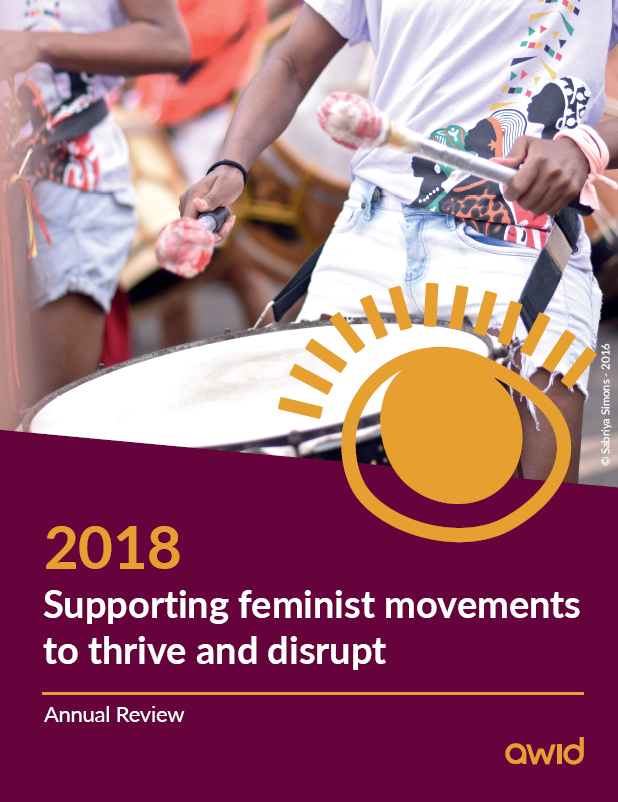 We worked with feminists to disrupt anti-rights agendas, achieving important victories fought and won within the United Nations system when ground-breaking language on structural discrimination, sexual rights, and states' obligations were included in a number of resolutions. Yes, the multilateral system is in crisis and in need of serious strengthening but these victories are important as they contribute to the legitimacy of feminist demands, providing feminist movements with more pressure points and momentum to advance our agendas.
We tried and tested different ways to build knowledge with feminist movements through webinars, podcasts and 'live' conversations. We developed facilitation guides with popular educators to reclaim knowledge in the interest of social and gender justice, even about a topic as seemingly opaque as illicit funding flows. We commissioned blogs and opinions about how feminist groups fund and resource themselves and threw light on the threats facing our human rights systems.
Within AWID, we practiced and learned from our shared leadership approach, and told the story of the trials and tribulations of co-leading a global, virtual organization. We don't have a definitive answer to what feminist leadership looks like, but we know, a year on, that a continued commitment to collective experimentation and learning has enabled us to keep building an organization that we are all excited to contribute to.
As we look back on this year, we want to thank all our friends and supporters, colleagues and companions, who have given their time and shared their wealth of knowledge and wisdom with us. We want to thank our members who helped frame our strategic plan and joined us to make feminist demands. We could not do this work without you.