Ali Chavez Leeds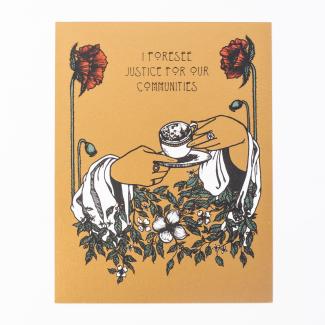 "Tasseography"
Tasseography is the study of coffee grounds and/or tea leaves for the act of divination. It is a practice that has been passed down through the women on my Armenian side of the family and was taught to me by my mother, she from her mother, and so on. As I would watch my Nana read the coffee grounds from the Armenian coffee prepared for family and friends, I would notice how often times she would see what she would want to say. These prints say some of the things I want to see in the world; I hope you do too.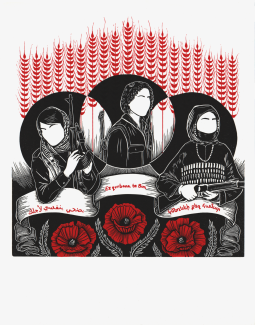 "Our Promise"
This print celebrates the resilience, sacrifice and strength of SWANA freedom fighters throughout history and the solidarity that exists. It was originally inspired by an article I read about an exhibition held in Tatvan, a district of Bitlis that was highlighting the Armenian presence in the region. My ancestors are from Bitlis, now within the borders of modern day Turkey.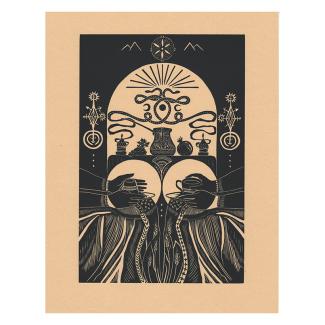 "Looking at the Cup"
Tasseography (the study of reading coffee grounds) is a cultural practice that Armenian women have used for hundreds of years to speak among and to each other, a coded language to open up conversations, to build inter-relatedness and weave connections.
About Ali Chavez Leeds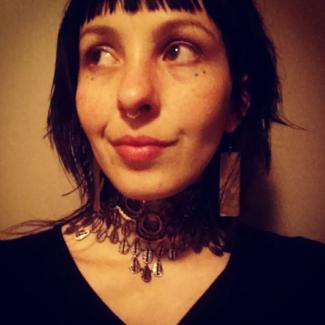 Ali Cat Leeds
(she/they) is an artist and print maker living on unceded Cowlitz, Multnomah and Confederated Tribes of Grand Ronde land at the confluence of two rivers, also know as Portland, Oregon. She produces her work under the name Entangled Roots Press. Their prints mingle the literal and metaphorical to illuminate and comment upon the world around us. Relief, screen, and letterpress prints span from the carnage of clear-cuts to the beauty of peoples movements. Ali's prints pull from ancestral herstories and push towards liberatory futures; entangling lessons from gardens, symbols in coffee cups, woven threads from Armenia and Euskal Herria, to the printed page.