Advancing Feminist Agendas: Key Progressions on Gender and Sexuality
Chapter 1
While fundamentalisms, fascisms and other systems of oppression shapeshift and find new tactics and strategies to consolidate power and influence, feminist movements continue to persevere and celebrate gains nationally and in regional and international spaces.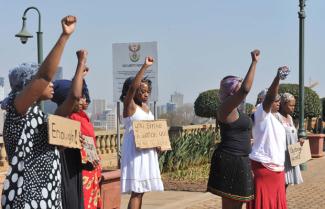 For example, a significant step was taken in 2019 at the Human Rights Council when the UN first recognized the right to bodily integrity and autonomy. Several resolution on discrimination against women and girls at the Council also recognize that backlash is linked to retrogressive lobbies, ideological views or misuse of culture or religion to oppose women's and girls' equal rights. We have also seen feminist progressions in the work of UN Special Procedures (independent officials), such as emphasizing the obligation of states to counter gender ideology narratives, calling out anti-rights actors misuse of references to "culture", and emphasizing that religious belief cannot be used as a justification for violence or discrimination.
Table of Contents
National level
Global spaces
Exercise: Let's map and celebrate our wins!